14 Dec

Dubai Health Forum 2019

Matthew Brunsdon – TAHPI Head of Technology, and James Brown TAHPI Head of Service Planning (Acting) will be attending the Dubai Health Forum along with other members of the TAHPI team from January 21st – 22nd, 2019.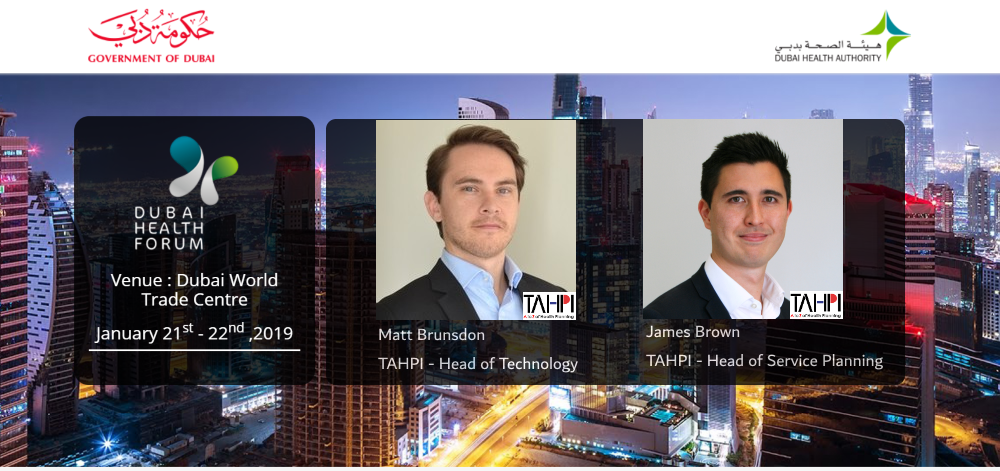 TAHPI has recently been collaborating with the Dubai Health Authority (DHA) on several high profile projects related to Health Service Planning and Health Facility Guidelines, the outcomes of TAHPI and DHA's collaboration will guide and influence health policy and strategy decisions made in Dubai's future healthcare system.
TAHPI's Service Planning team are experts in health policy, strategic planning, and health service demand forecasting. The HFBS Service Planning Software Solution deployed and configured by TAHPI for the Dubai Health Authority is a next generation health service planning platform that will assist with strategic decision making in Dubai's future healthcare system.
The Dubai Health Forum is in line with Dubai's 2016 – 2021 ambitious strategic goals, which focus on transforming Dubai into the chosen destination for healthcare treatment and tourism. Dubai has world class infrastructure in healthcare and is equipped with the medical facilities and services, and investment opportunities that are in line with the goals of the Government and compete with modern international standards.
Topics to be covered by TAHPI at the forum will include:
The Current Trajectory of Healthcare Spending
Rising Costs Vs Public Funding
Demand and Supply of Health Services – Cost vs Benefit impact
Universal Health Care funding
Sustainable Future Healthcare
Global Healthcare Models
TAHPI looks forward to an engaging conference and looks forward to discussing the future of Dubai's healthcare system with attendees.
For more information please click here to contact TAHPI, or call on +971 4428 1348.