14 Dec

Abu Dhabi DOH Capacity Planning Tools

TAHPI contributes to Department of Health Abu Dhabi Healthcare Capacity Master Plan 2018

The Department of Health Abu Dhabi (DOH) have released an updated Healthcare Capacity Master Plan which can now be publicly accessed on the DOH website. TAHPI is honoured to have contributed to the Abu Dhabi Healthcare Capacity Master Plan via a set of world class DOH Planning Tools software modules configured for the DOH to use in Health Service Planning and Strategy.

Click to view the Abu Dhabi Healthcare Capacity Master Plan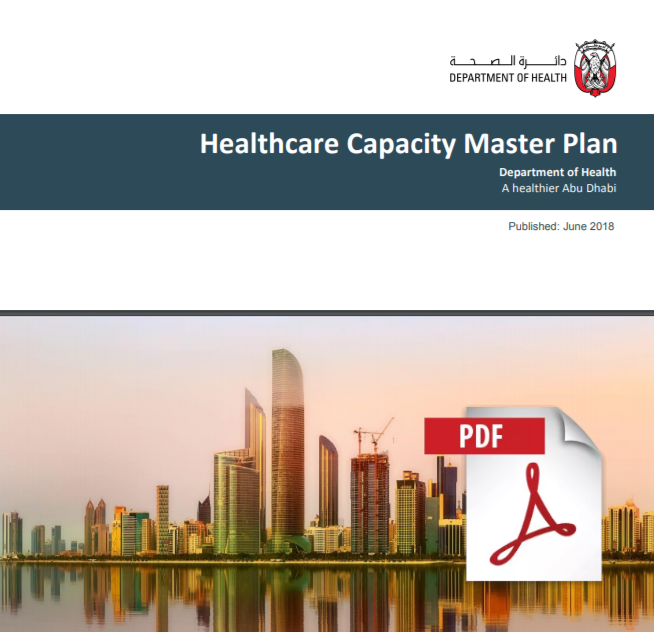 The DOH Planning Tools have been extensively developed in partnership with Total Alliance Health Partners International (TAHPI) as part of DOH HSS Initiative 1.2. The DOH Planning Tools based on TAHPI's HFBS Service Planning Solution places Abu Dhabi in the forefront of strategic health planning.
Abu Dhabi DOH Capacity Planning Tools – Powered by HFBS Service Planning Solution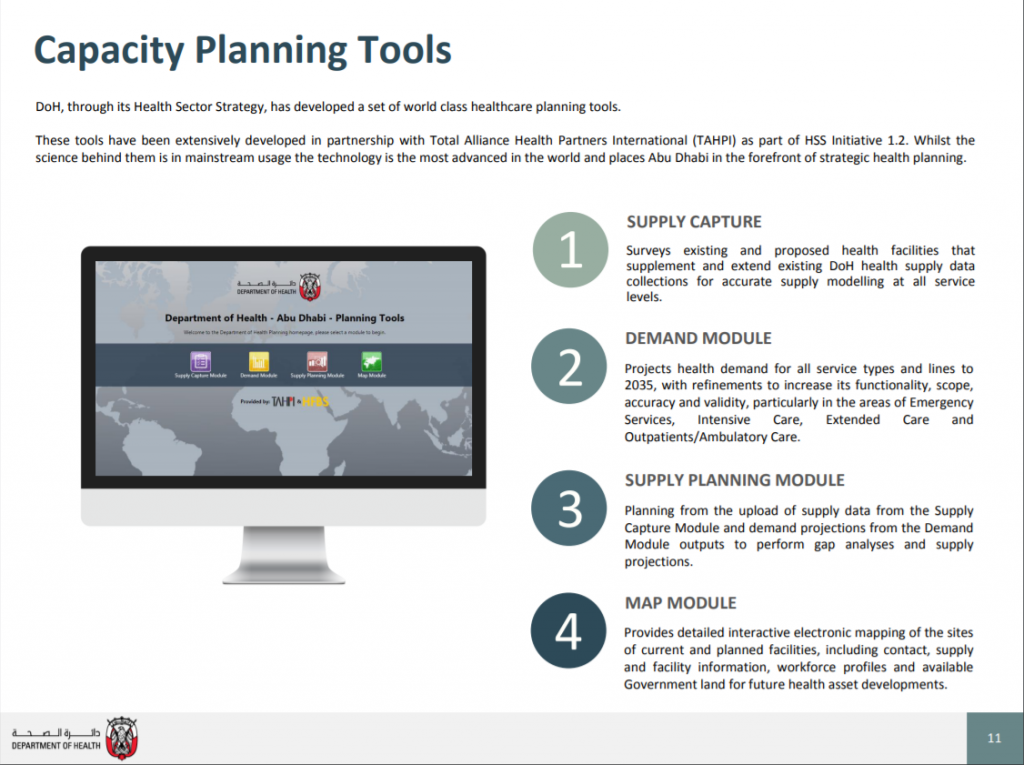 The Department of Health (DoH), in line with it's vision: A Healthier Abu Dhabi, has significantly developed the healthcare capacity management system.
This Healthcare Capacity Master Plan (CMP), its methodology and the tools and initiatives contained within it, provide both the framework and the future plans that underpin the sustainable development of the Abu Dhabi healthcare system in a way that supports DoH Mission1 .
DoH CMP is designed to help Abu Dhabi respond to its current and future healthcare demands, establish a healthcare planning culture and introduce guiding principles and specific plans for healthcare capacity and provision.
Work on the CMP involved:
Development of an advanced healthcare capacity planning system including new tools that are at the forefront of healthcare planning technology
Major analyses to understand the demand for healthcare now and in the future at Emirate, Regional and Precinct level and to interpret this demand by service type and specialty
A comprehensive audit of existing and planned healthcare facilities.
The CMP is a conceptual document that distils all analyses, themes, methodologies and regulatory requirements relating to healthcare supply into a single cohesive review of Abu Dhabi healthcare requirements. It articulates the conclusions as a clear plan for sustainable future healthcare in Abu Dhabi and provides implementation plans to address the major issues identified. The healthcare demand projections articulated throughout the CMP take full account of the projected population rises, population ageing and expected changes in burden of disease and efficiency of the delivery of healthcare
More information on Abu Dhabi DOH statistics and master-plans can be found on the DOH website: https://doh.gov.ae/investor/capacity-master-plan 
For more information on Health Service Planning and HFBS technology solutions please contact TAHPI, or phone: +971 4428 1348.
Related News Articles: