14 Feb

TAHPI Hospital Demand Modelling Experts

TAHPI is the first choice in hospital and health facility demand & supply modelling for many private and public healthcare organisations across the world.
TAHPI's Health Service Planning Team specialise in the use of data to assist both public and private healthcare organisations with strategic capacity planning and market opportunity analysis in both the short & long term. With decades of experience bringing best practice health service planning tools and methods to public and private healthcare organisations, TAHPI's Health Service Planning team seek to educate, challenge and contribute to your health service planning processes.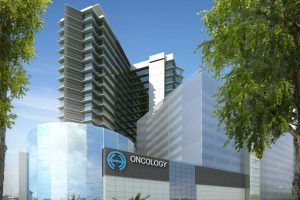 Private Sector health facility demand modelling
TAHPI offer a data driven, evidence based approach to identifying opportunities for private healthcare providers by analysing both past performance, and future trends. TAHPI employs the use of multiple concepts to assist our private sector clients including:
Percentage of Market Captured
Analysis of your facility referral patterns and identifying opportunities for redirection can open up new business for private sector healthcare providers. Reviewing of the market for health services in a specific geographic area and a comparison of specialities offered can reveal opportunities for redirecting patients to your health facility or hospital. If your health facility already has a high market share this analysis can assist you with retaining your commercial position. Alternatively if your health facility is experiencing lower than expected market share this analysis can prove effective in identifying opportunities for growth.
Market Gaps in Supply of Health Services
The identification of gaps or 'under supply' of specific privately offered health services in geographic areas. TAHPI analyses market gaps using population-based analysis and examining the utilisation of private hospital services currently accessed within a geographical region. Identification of growing demand, and under supply will offer support to an expansion strategy for a health service provider. Alternatively the identification of stagnant or negative growth in the demand for health services may support a case for redirecting patient flow.
Projections of growth based on population and other metrics
Strategic opportunities can be identified by analysing population growth, ageing and changes in clinical trends.
TAHPI offers a data driven approach, adopting the most accurate population growth, population ageing and speciality-specific trends in admission rates and length of stay. TAHPI's chosen software solution HFBS Service Planning Solution offers a multi scenario based approach to health service demand projection. The HFBS Demand Module software by default includes a 'base scenario projection' which enables service planners to evaluate opportunities that will arise over the long-term (5 years+) if the status quo is maintained. This base scenario assumes the nature and volume of work that will result if the market continues to develop in line with historical utilisation trends. The software also allows for multiple other scenarios containing specific adjustments to Demand and Supply in the future, allowing health service planners and strategists a comprehensive and comparable picture of demand for future health services. when utilising the base scenario projections private sector clients are advised to interpret results as 'conservative' as most private hospitals seek to expand the private market above and beyond the utilisation levels observed in the past. Market Projection information enables service planners to ensure that a hospital is aligned with the strongest speciality and area specific long-term growth opportunities relative to the catchment it services.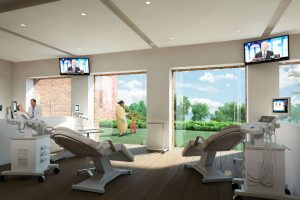 Public Sector health facility demand modelling
TAHPI provide demand/supply modelling & scenario modelling to support major capital works developments, resource allocation, workforce planning & funding requirements across the world. TAHPI employs the use of multiple concepts to assist our public sector clients including:
Self-Sufficiency, Travel Time, and Patient Flows
To ensure local services meet local needs TAHPI will analyse the geographical location, patient flows, referral patterns, and local/international guidelines and create a strategic plan for the most efficient and safe delivery of services. Our goals include: ensuring that health services are easily accessible for patients, travel time from home to health provider is minimised, and services are delivered in an efficient and safe manner.

Ensuring appropriate service distribution using Relative Utilisation
'Relative utilisation' is a metric used by health service planners which shows the rate of service utilisation compared to other regions. For example indicator of the rate at which residents of a particular geographic area utilise inpatient services as compared to the state as a whole. TAHPI offers its clients an in depth analysis of 'relative utilisation' as part of our demand and supply modelling services. When calculating relative utilisation metric TAHPI ensures that supply and demand projections relate to underlying need for health services as opposed to the historic patterns of supply. In many cases historic trend analysis will be less accurate than TAHPI's unique methods for analysing the underlying drivers of health service demand. Public healthcare organisations can use this metric to ensure health services are appropriately distributed based on demand, and use the demand projections provided by TAHPI's chosen software provider HFBS Service Planning Suite to inform future planning and strategy.

Determine if changing clinical trends effect service delivery
Health service delivery is rapidly evolving with many new clinical trends appearing across the world. By reviewing the future impact of historical and future trends TAHPI identifies strategic impact of these trends. TAHPI will analyse how these changes in clinical practice effect health service delivery along with our demographic influences analysis (population growth and ageing). TAHPI has created a proprietary set of high grade clinical trend files which allow our clients to review historic trends within each speciality to DRG. TAHPI's clients use the TAHPI clinical trend data files to review the impact continuing into the future and plan accordingly.
Analysing future impact of projections on a health system
A key aspect of TAHPI's health service planning analysis for clients is determining what the impact of projections will be on an existing healthcare system if nothing changes. What effect will increased demand have over time, where are the gaps in the health services predicted to be, and how will referral patterns / patient flows effect the utilisation of health services in a hospital or facility? TAHPI takes into account population growth, demand projections, accurate supply data, referral patterns, and more. TAHPI's analysis will identify opportunities such as offsetting growth in admissions by decreasing length of stay, facilities and capital infrastructure expansions required to meet demand, and critical dates for planning, action, and impact. TAHPI has worked with a large number of international public healthcare organisations and understand planning processes and best practice across world class, and emerging economies.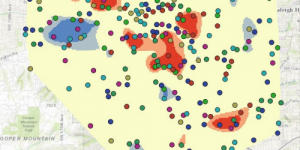 No Health Facility? No Problem!
TAHPI provides regular market reviews for a wide range of parties including hospital groups, funding organisations, property developers, clinicians and other health related organisations.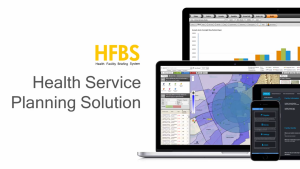 TAHPI Health Service Planning Software
TAHPI offers to its clients the HFBS Health Service Planning Suite of software – a next generation health service supply and demand modelling software solution. The solution allows users to centralise all information relevant to the planning process, project demand for health services at a DRG level, and visualise gaps in health services by geographical region. The solution is available both on premise and via the HFBS cloud, for more information please view the
HFBS Health Service Planning Suite website here.